Let's just say that somehow you're here and you have ABSOLUTELY no idea who Quicksand is. That having been said, they were a hardcore/post-hardcore band in the early/mid-1990's comprised of a who's who of 80's New York Hardcore bands. Taking that pedigree & experience, they traveled new ground in this band, exploring more mid-tempo music with layered guitars and sung, rather than screamed vocals. Drawing equal parts hardcore and rock, they fused a sound that has continued to strongly influence across genres for years.
That being said, the first two things in this download were posted on the old
What We Want Blog
, ripped from the actual singles themselves; which I must say, both kick ass. The artwork for the Dine Alone 7inch which you see to the left makes the 7inch worth having alone. To the best of my knowledge, the songs here are demos and follows the "s/t" ep released on
Revelation Records
, predating the first lp, "Slip."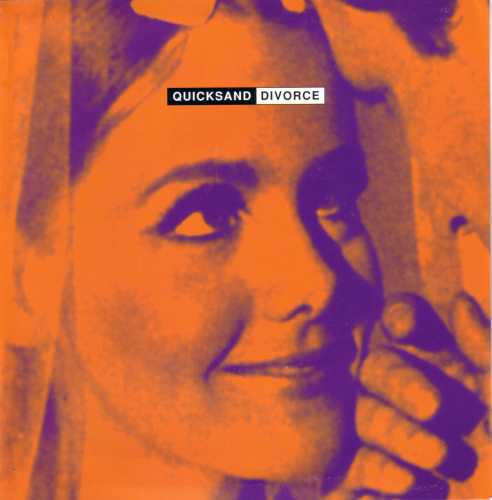 The second 7inch here, "Divorce/Voice Killer" comes after the
"Slip" lp, but predates their final lp "Manic Compression" and was actually released as a promo single. Both 7inches showcase some of Quicksand's finer moments as they move further from a direct hardcore influence and more towards their own signature sound. Rich guitar layering & effects, an ever present bass guitar, and drums that drive things forward through a sound that almost bounces along at times.
The last inclusion here is the "Rarities & B-Sides" fan compilation. I've seen a few different versions of this in the last few years. Usually they contain the same songs, but in a different order and quality. All to often the downloads of this are ripped at 128 kbps, which is just about the musical equivalent of eating McDonals past the age of 10 years old. The one posted here is at 160kbps, save for the last track, Supergenius which I could not find on any of the 160k versions. This compilation features as it says, B-sides and unreleased tracks. There's a fair amount of demo tracks along with some live tracks and what are said to be songs from the record the band was working on when they had briefly reunited in in the late 90's (specifically '98/'99). There's a lot of good tracks here, including a version of the stellar track "Shovel", and my two personal favorites on the compilation, a cover of the Smiths "How Soon Is Now?" (bonus from an import of the "Slip" lp and the unreleased track "In the End." Listen to it, the song can just swallow you whole with that opening riff, and then the vocals just sail right over the song- I try to avoid any flair for the dramatic with the blog, but Quicksand tends to defy most conventions, even now, more than 10 years after parting ways.
Enjoy!
Download:
Quicksand - Divorce & Dine Alone 7inches + B-Sides collection